This looks a bit too much like street theatre to me, any thoughts?

Iranian killer's execution halted at last minute by victim's parents
Convict had noose around his neck when victim's mother approached, slapped him in the face and spared his life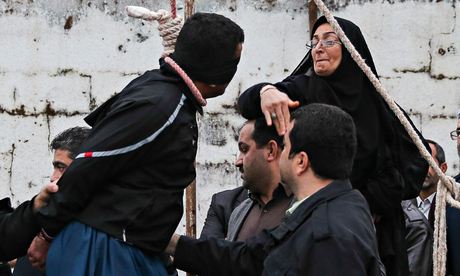 When he felt the noose around his neck, Balal must have thought he was about to take his last breath. Minutes earlier, crowds had watched as guards pushed him towards the gallows for what was meant to be yet another public execution in the Islamic republic of Iran.

Seven years ago Balal, who is in his 20s, stabbed 18-year-old Abdollah Hosseinzadeh during a street brawl in the small town of Royan, in the northern province of Mazandaran. In a literal application of qisas, the sharia law of retribution, the victim's family were to participate in Balal's punishment by pushing the chair on which he stood.

But what happened next marked a rarity in public executions in Iran, which puts more people to death than any other country apart from China. The victim's mother approached, slapped the convict in the face and then decided to forgive her son's killer. The victim's father removed the noose and Balal's life was spared.
LOTS of photos here:
http://www.isna.ir/fa/imageReport/93012 ... 8%B4%D8%B4
Credited to Arash Khamooshi
On CNN
full link: http://www.youtube.com/watch?v=gxyYj43mbyU
ISNA photographer Arash Khamooshi was there when people gathered in the northern city of Noor, near the Caspian Sea in the province of Maznadaran, before dawn.

One of Khamooshi's photos shows Balal's mother, Koukab, sitting on the ground before her son is brought out. "She had no energy left in her," Khamooshi said. She was "resigned to the fact that she was going to lose her son. It was very moving."

Balal emerged. His head was covered, and the noose was placed around his neck. The man was "screaming and praying loudly before he just went silent," Khamooshi told CNN's "Connect the World."

The victim's family came out, and his mother, Maryam Hosseinzadeh, addressed the crowd. She said she's been living a nightmare since she lost her son and couldn't bring herself to forgive the killer, Khamooshi adds.

Then she walked toward Balal and asked for a chair to stand on. She stepped up, slapped Balal and said, "forgiven." She and Abdollah's father took the noose off.

Balal's family rushed over, hugged them and thanked them for what they had done.

"I don't know how I took these pictures," Khamooshi said. "I guess it's the power of the camera that allows you to focus. That's the only reason I didn't break down and cry."
This appears to be his page:
http://arash.akkasee.com/
Election photos credited to him here:
http://www.payvand.com/news/13/jun/1080.html
Reuters earthquake photos credited to him here:
http://global.christianpost.com/news/ir ... ren-79918/
Getty Images photo credited to him here:
http://www.thedailybeast.com/articles/2 ... -deal.html
Etc.