I found this to be a
very
odd story at the time. How familiar is it to the forum? Not a new story, but valid material to worry over.
This topic is particularly geared towards Brits (so reichstag, reel.deal, other fellow subjects of the Realm, please dig in). But all international comments are welcome
Link to source page:
http://www.dailymail.co.uk/news/article ... -shot.html
'They were lucky not to be shot': Police chief says armed officers showed 'enormous restraint' as mob attacked Charles and Camilla wrote:

By Tim Shipman and Gerri Peev

UPDATED: 13:58, 10 December 2010

Prince's Rolls Royce set upon on way to Palladium
Camilla cowers in fear as car is hit with paint bombs
Met chief hails armed officers 'restraint' during attack
Scotland Yard to hold major inquiry into security lapse
Cameron: Rioters must be arrested and punished
Anarchists boast of success and plan more disruption
Student has surgery for blood clot on brain after riot

Met chief Sir Paul Stephenson today mounted an extraordinary defence of armed protection officers after the worst Royal security blunder in a generation.

Sir Paul hailed the 'enormous restraint' of the team guarding Prince Charles and his wife the Duchess of Cornwall, implying the rioters were lucky not to have been shot.

Camilla was left terrified as their Rolls Royce came under fire from a snarling mob of student fees rioters as it made its way to the Royal Variety Performance at the London Palladium.

The car was kicked, rocked and hit with paint bombs as up to 20 demonstrators attacked it and chanted 'Off with their heads!' and 'Tory scum', leaving the couple visibly shaken.

The Prince and Duchess were not hurt but the potential risk to their safety raised worrying echoes of the 1974 kidnap attempt on Princess Anne.
http://i.dailymail.co.uk/i/pix/2010/12/ ... 34x420.jpg
http://fotoforensics.com/analysis.php?i ... 5871.67482
Look at the straight-line blocking, and the Breivik-like framing of the Royals. Camilla is like a 1930s spiritualist's ectoplasm, flat and curled, too far back, too far forward, and odd. To my eyes, the ELA shows a lot of unnatural artefacts. Vertical to the left of the apparent perpetrator. Squaring around the head. Odd horizontal rail effect above the car, and lots more.
Note that the Met Police Commissioner, Sir Paul, said
....the route was 'thoroughly recced, including minutes beforehand. I think what you have to remember is the unpredictability of ... these thugs, in the way in which they were moving around London.'
So unpredictable that the moving car was covered from both sides by press photographers...
And this is sheer Dan Brown...
NEW BLUNDER FOR ARISTOCRAT ROYAL PROTECTION COMMANDER wrote:
The security blunder that led to rioters attacking Charles and Camilla's car is not the first lapse under the watch of the current head of Royal protection.

Aristocrat Commander Peter Loughborough, 52, came under serious fire after Aaron Barshak gatecrashed Prince William's 21st birthday party in 2003. His job was throught to be at risk after the incident, which came just seven months after he was chosen to head the Royalty Protection Department. In an earlier lapse, when Michael Fagan broke into Buckingham Palace in 1982, his predecessor Commander Michael Trestrail lost his post.

But father-of-four Commander Loughborough, whose real name is Peter St Clair-Erskine and is the seventh Earl of Rosslyn, survived the 2003 incident. He is now billed as the Queen's favourite policeman and was last year handed the Queen's Police Medal for 'services to policing'. Commander Loughborough was handed the job because he is deemed to have the social skills to move in aristocratic circles.

Educated at Eton and Bristol University, his privileged background is highly unusual for a police officer. He joined the Metropolitan Police in 1980 on the recommendation of a cousin in the force. In his down time, he is a Crossbencher in the House of Lords - where he survived the cull of hereditary members by the Labour government.

The Royalty Protection Department is made up of more than 400 officers, each vetted and recommended for the job.
What goes on with this archetypical anarchist's nose? It looks like a hag's snout, not the neat beak of some protesting student!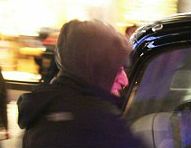 And his reflection, at a disjointed perspective, plus 'You', the stunned viewer, an everywoman in roll-neck jumper, are reflected in the glass.
Someone with a camera (a totemic validation signature) is visible through the glass.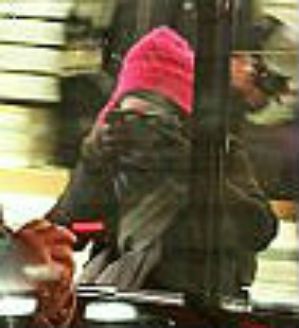 But are they anatomically realistic? Consider their upper body shape/width, now with the car window pillar reduced...shoulder cross-section and arm length.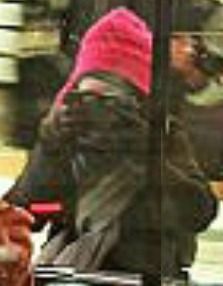 Which looks more credible?
Despite the use of flash photography, minimal/no back-scatter is seen from the car windows. Are the red-bright 'woosh marks' , on the car body, in the bottom-right, clear paste-ins??