*
"CARLOS ARREDONDO - THE FIRST MAN IN"
Sheesh - this Carlos clown seems to be the Boston-psyop-actor equivalent to 9/11-clown Willie "BOOM" Rodriguez - the infamous alleged "LAST MAN OUT" of the twin towers. Considering that Willie is STILL hailed as a true hero - even by longstanding (alleged) 9/11 "truthers" such as Kevin Barrett and Jim Fetzer, I feel it necessary to immediately call out this other Hispanic clown for the obvious CIA / "intelligence"
ass
et that he is.
CARLOS ARREDONDO - "THE FIRST MAN IN"
WILLIE "BOOM" RODRIGUEZ - "THE LAST MAN OUT"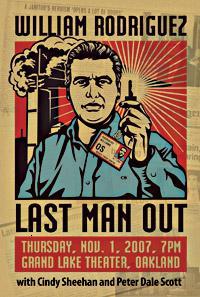 To be sure, both those 'heroic' Latino clowns play the role of "peace activists" - which is frankly a quite painfully offensive irony, since they're in fact both employed by the rogue US war machine (and its assorted partners in crime). I may be accused of being overly concerned with such dime-a-dozen, low-level tools of the system, but I somehow hope that exposing the antics of such pathetic bozos might help opening more eyes to the entire psyop structure.
As all readers of this forum will (hopefully) know, the main role assigned to Willie "Boom" Rodriguez was (and still is) to uphold the illusion that the WTC towers were full of people on 9/11 - and that he, as the WTC's janitor, helped lots of horribly burned people escape from the building - and that he witnessed loud explosions in the basement, and so on and so forth. Willie has been travelling around the world for the last decade, endlessly repeating his phony "BOOM" tale to enraptured audiences, playing the heroic "whistleblower".
Now, let's look at just how his Boston-Psyop-hero equivalent, Carlos Arredondo, is being manufactured for public consumption. Here's a New York Times article which carries the harrowing story of how our Carlos hero rescued the poor "blast victim and twin amputee", Jeff Bauman:
The New York Times - April 16, 2013

"With the first blast, Mr. Arredondo jumped over the fence and ran toward the people lying on the ground. What happened next, he later recounted to a reporter: He found a young man, a spectator,

whose shirt was on fire

. He beat out the flames with his hands. The young man, who turned out to be Jeff Bauman, had lost the lower portion of both legs. He took off a shirt and tied it around the stump of one leg.

He stayed with Mr. Bauman, comforting him, until emergency workers came to help carry him to an ambulance

."

http://www.nytimes.com/2013/04/17/us/in ... .html?_r=0
Ok. So Jeff Bauman's shirt had caught fire - and Carlos put it out; Carlos then stayed with Jeff until emergency workers came to help him to an ambulance. Isn't this what that NYT article says? Well, here we see this Jeff Bauman lying on the sidewalk - unattended and uncharred. Oh wait, did Jeff's shirt perhaps catch fire AFTER this "grisly picture was taken"?...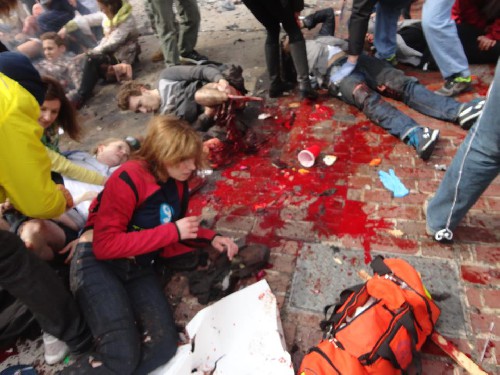 Well, apparently not. Jeff's shirt is still uncharred in this other "iconic Boston Bombing" image.
Or is that cigarette burn hole on his chest meant to be "the fire" which Carlos put out?
That NYT article actually starts by mentioning Jeff Bauman's first words after the blast...
"He looked angry, as he motioned his arms up and out like shock waves and mouthed: "Boom! Boom!"
Jeff Bauman is the man in the photograph that has become an icon of the Boston Marathon attack, the one showing a bloodied, distraught young man, holding his left thigh, being wheeled away by a man in a cowboy hat."
"Boom! Boom!"