*
" CORY LIDLE New York Plane Crash - [st]90/II/0I[/st] I0/II/06 "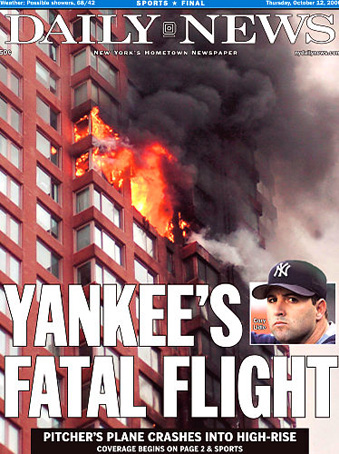 Baseball fans will remember the alleged plane-crash which reportedly killed Yankee pitcher
Cory Lidle
(and injured
11
New York firefighters) back in 2006. Apparently, "pilot error" caused his private plane to crash into the Belaire building at East 72nd in New York's upper East side, entering an apartment and injuring its owner, Ilana Benhuri. The fortunate lady, we may guess, was safely watching TV in her bath tub - and so escaped alive from the furnace.
Oh no, wait!
This Daily News article from Oct 11, 2007 - a year after the event - informs us that...
"Benhuri, 51, was standing just a few feet from the window in her 30th-floor apartment and never saw the single-engine plane bearing down on her. The explosion threw her to the ground and flames licked her back."

http://www.nydailynews.com/news/east-si ... z2j1tD5as9
Oh well - we may surmise that Mrs Benhuri is of the thick-skinned type. Her husband however, is none too happy about the whole affair;
:

"Benhuri's husband, Parviz, contends he could not have sex with his wife because of her injuries".

Here we can clearly see the classic plane-shaped gash in the building - caused by the fiery impact:

And here we can see the classic soot mark we'd expect after such a fire...

(everyone knows that building fires tend to spread mostly downwards - towards the lower floors) :

The aircraft, Wickedpedia informs us, was registered as "

N929CD

" and had taken off from Teterboro (NJ) at

"2:29 (18:29UTC)"

.

http://en.wikipedia.org/wiki/2006_New_Y ... lane_crash

Another image of the tragic fire (the black smoke, I believe, must be the plane fuel. The white smoke is Mrs Benhuri's apple pie. Or vice versa.) :

Hmmm...[*mumble,mumble*]. Was this maybe/ perhaps / possibly just another scam? Naah... EVERYTHING isn't a conspiracy, Simon !