THE 16-SECOND MAGIC SEQUENCE
The 4 seamless shots of 'the airplane approach' shown on LIVE TV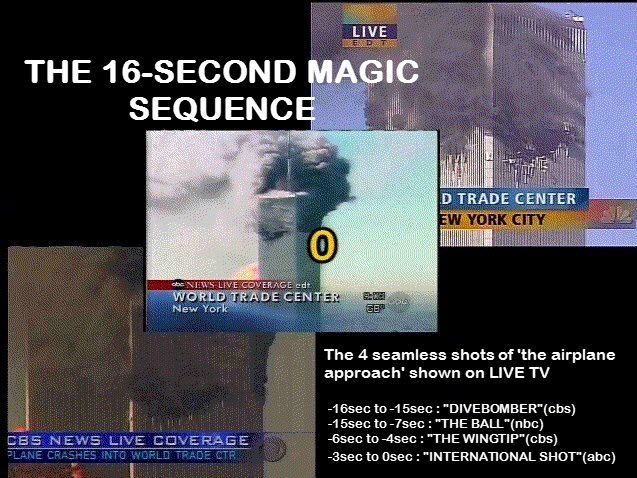 And here is the full "airplane approach" film sequence - a grand total of 16 seconds of footage - that was aired LIVE on the major TV networks o
n (split between 4 different networks!) :

PLEASE WATCH THIS GIF.--
So I'll now ask everyone to consider the odds of these 4 cameras capturing a sequential series of shots showing 'FLIGHT 175' entering and exiting their given lens views in seamless fashion. Does this seem likely - or can you say "fabricated animation sequence"? I call this the "16-second magic sequence". You will have to be very convincing if you are to tell people that this was all a matter of pure happenstance. Please know that these mere 16 seconds of 'plane footage' make up THE GRAND TOTAL OF AIRPLANE IMAGERY THAT THE TV NETWORKS SHOWED LIVE ON 9/11.
This the sum total of shots of alleged "FLIGHT175" shown on LIVE TV ON 9/11.
Four sequential chunks of 'the hijacked airliner's' approach were aired in seamless succession, none of the 4 'camera shots' overlapping the other.
This is how the approach breaks down between the TV networks:

-16sec to -15sec : "DIVEBOMBER"
(cbs) -
http://www.youtube.com/watch?feature=pl ... Ul7g#t=29s
-15sec to -7sec : "THE BALL"
(nbc)
http://www.youtube.com/watch?feature=pl ... C8#t=1895s

-6sec to -4sec : "THE WINGTIP"
(cbs)
http://www.youtube.com/watch?feature=pl ... Ul7g#t=38s

-3sec to 0sec : "INTERNATIONAL SHOT"
(abc)
http://www.youtube.com/watch?v=jaxo8-mv ... F5C1#t=55s
Note that all 4 show a "plane" entering the edge of the screen then disappearing behind either smoke or the towers...like 4 tv commercials
If you are among those who believe this is a real video sequence portraying a real hijacked Boeing 767, a remote-controlled-modified-military 767, a drone of any type or perhaps Baron Von Richthofen (a.k.a. The Red Baron) in a cloaked version of his WW1 Fokker combat plane, please provide a compelling explanation to account for the following questions/observations:
- How did the producers of CBS, NBC an ABC coordinate their respective cameramen so that - at no time - no two of them filmed the 'aircraft' at the same instants in time/space?
- If you assert that this was just a happenstance/coincidence, please provide (on a scale from 1million to 10trillions) a calculation of the statistical probabilities for this occurence.
- Considering the 3 TV feeds are accurately synchronized (+/- 0,2secs) why does CBS show WTC2 exploding at least 1 second before ABC?
For reference, here are the first 11 minutes of the 9/11 broadcasts :
"SYNCHED OUT"
http://tinyurl.com/SYNCHEDOUT