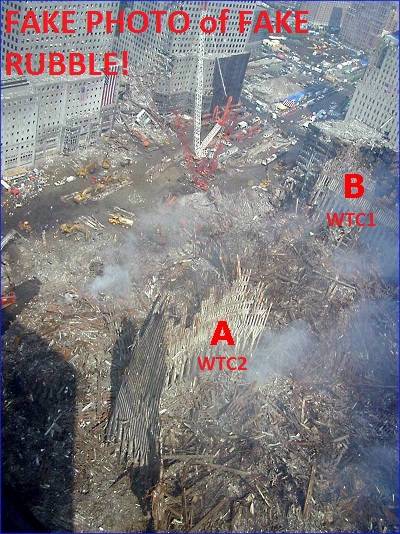 Above is a photo of the alleged rubble a few days after 911 - smoke still coming from the rubble - with text added by me. We see the bottom parts of the south and west walls of the south tower still standing and the bottom part of the north wall of the north tower is also standing ...
for dramatic effects
. There is amazingly little rubble or debris of steel panel walls around and inside the still standing walls on the ground. And no sign of 100+ floors of concrete on steel plates that you would expect to be seen stacked on top of each other in the tower foot prints. And no sign of any top parts/roofs or masts that should have crushed down the towers by gravity.
I assume that the real rubble were two hugh, tall piles of concrete floors with broken wall steel panels scattered around and clearly showing that the towers were brought down from bottom up ... so the perps had to create the images with the still standing bottom walls making the impression that the latter remained.
I assume that the strong, bottom four walls of each tower were the elements first destroyed when bringing down the towers.