simonshack wrote:

"Defuso". Hope you like it.
It fits the language of our investigations only too well. Sad that it needs to be created, as a word, but it needs to be created...one of the Names of the Beast.
Thankfully it's a word which
doesn't
need to apply here, to the amazing work of Le Hunchback at
http://www.angelfire.com/moon2/xpascal/MoonHoax/MainPage.HTM
, which I've mentioned before. This guy, who is clearly a highly-technical and capable individual, has done a number of forensic deconstructions of a whole range of Apollo hardware. His analysis of the bizarre Apollo Guidance Computer is astounding, as is the self-blindspotting LM-CM optical docking guidance 'system'.
But focusing for a moment (which we must) on the early Lunar Camera- Le Hunchback has concentrated on the camera tripod, and here's the magician's sock-drawer that's officially termed the MESA...I believe this is where the self-controlled hidden camera lurks, the one which records Armstrong's first trip....
(click on the pic to link to the Lunar Equipment analysis page)
However...I was also having a seperate look at some of the A12 source technical documents listed at
http://www.hq.nasa.gov/alsj/a12/
...these are very interesting apparent period documents, written and presented in an apparently-convincing style.
I was looking through the listings, and found what claims to be the original Westinghouse Lunar Television Camera Operations Manual (the direct link to it is
http://www.hq.nasa.gov/alsj/WEC-Lunar-Camera-Manual.pdf
). I was noting a number of inconsistencies and puzzles in some of the technical descriptions, and I also decided to had a look at the internal electronic circuit schematics (actually, a hybrid block-diagram/connections chart). These kinds of complex documents don't worry me...well,
technically
they don't worry me.
Something jumped out at me....I marked it in red in case you missed it...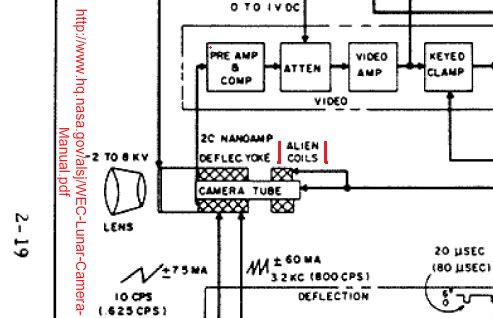 Alien coils? Alignment coils? What goes on??
Is this a Freudian typo in a multi-million dollar aerospace contractor lead document? Whistleblowing applied at the time by draftsmen and engineers who were confident that it wouldn't be spotted until at least 15yrs after the declassification of the documents? Or modern-day mischeviousness, by careful editing of the document, perhaps within the last few years?? I will say that I'm also concerned about other aspects of theabove circuit design/description, and need to look at it in further detail...but please do have a look at the Le Hunchback analysis pages, irrespective of how technically-able you may think you are.