Interesting video. Thankfully, the "Bradley Manning" Psy-Op is not big here in Britain, even though his apparent mother, "Susan" allegedly lives in Wales.
There's a useful open source tool for extracting the embedded flash video from websites for analysis. It can be downloaded here:
http://code.google.com/p/get-flash-videos/
Just some random observations, make of them what you may..
We are told that "Bradley Manning" grew up in Crescent, a small town in rural Oklahoma.
Narrator: "Bradley..lived in a farmhouse on a remote stretch of road outside of town".
As a long-gone outsider from out of town, no one living in Crescent today would even remember him then..
We are not told where "Bradley's" purported father "Brian" lives today.
The interviews in the footage may be total fabrications through heavy splicing.
The purported interviewer may not have conducted the interviews.
The interviewer's questions were perhaps spliced in only afterwards to fit the propaganda.
The two interviewees may be responding to totally different questions to those presented in the film.
The two interviewees may not be talking about "Bradley Manning" at all. They both refer only to a "Brad"
The interviewees provide no context nor relevance to the wikileaks narrative, the purpose of the film.
This is all human interest guff. All we learn is that "Brad" (no surname) is an angry and disgruntled homosexual.
Neither of the interviewees even mentions "wikileaks".
"Brian", "the father" of "Bradley" may not be talking about "Bradley Manning"
"Brian" may not even be the real name of that man.
It is only the narrator (and not the interviewer) who refers to "the father" as "Brian".
"Susan", "the mother" of "Bradley" is never interviewed.
The photo of "Susan", the supposed mother, is so poor, it could be of anyone. (see 1st column, 2nd row below)
"Susan" now lives in her native Wales, a country the size of NJ, but with a population of just 3m. Any more info? Thought not.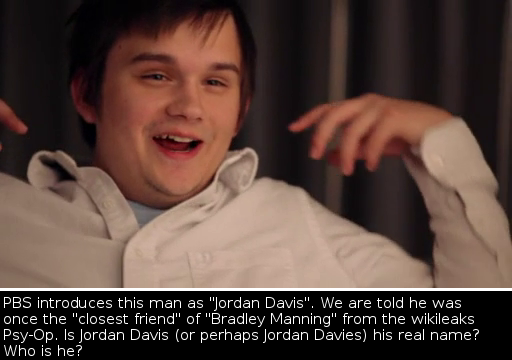 The photos of "Bradley Manning" don't even look like the same person. The hair colour changes from blond to black and then back again. Look at the unusual teeth and ears as well. They seem to change beyond what we might expect from normal development.