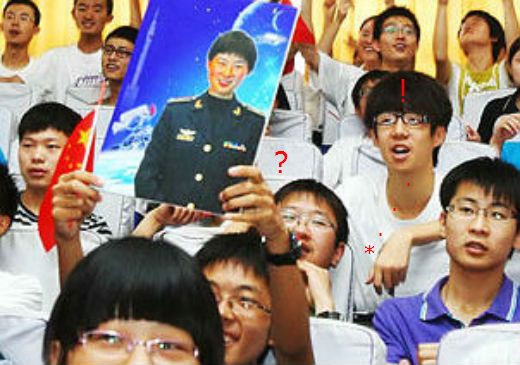 Spot the convenient gapping at "?"...assuming there ever were actual students in a real assembly, one of them seems to have had a left-lateral craniectomy courtesy of Adobe. You can just see their headless hand supporting the chin, below the blocking picture. Note the curiously-unheld PRC flag, in the right-hand (is it really holding anything??) almost just 'pinching' the giant picture, with a lot of red-bleed down the fingers. The hands look at least a decade older than their owner...the finger tarsal-bones look fully-developed (a key indicator or skeletal development) yet the 'owner' looks as if he's barely in his teens.
The flat 2-D gawper at "!" is a real paste-in...he's too close to the row in front, and too tall (if he were pitched forward on the seat, that would lower him). And he's some kind of visual tag-geist, acting as a vector for the fanpic.
And what's this guy doing? Are his truncated fingers operating an edited-out computer games controller? He's
not
clapping...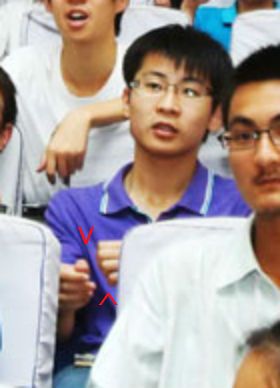 Again, a non-clapping 'holder-upper'....hey, you dropped it, fella!