AngellDust wrote:I was just reading a book that mentioned the two pathways used in reading: the ventral stream and the dorsal stream. Apparently, most of the time we use the ventral stream, which a more efficient, breeze-through-the-content method of reading. However, when faced with challenging words, complicated prose, bad handwriting, or faulty grammar, we switch to the dorsal stream. The dorsal stream is more intensive and enhances cognition of the words being read. A few blurbs from a

Wired.com

article on the topic:

The Ventral Stream:

Stanislas Dehaene, a neuroscientist at the College de France in Paris, has helped illuminate the neural anatomy of reading. It turns out that the literate brain contains two distinct pathways for making sense of words, which are activated in different contexts. One pathway is known as the ventral route, and it's direct and efficient, accounting for the vast majority of our reading. The process goes like this: We see a group of letters, convert those letters into a word, and then directly grasp the word's semantic meaning. According to Dehaene, this ventral pathway is turned on by "routinized, familiar passages" of prose, and relies on a bit of cortex known as visual word form area (VWFA). When you are a reading a straightforward sentence, or a paragraph full of tropes and cliches, you're almost certainly relying on this ventral neural highway. As a result, the act of reading seems effortless and easy. We don't have to think about the words on the page.

The Dorsal Stream:

The second reading pathway – it's known as the dorsal stream – is turned on whenever we're forced to pay conscious attention to a sentence, perhaps because of an obscure word, or an awkward subclause, or bad handwriting. (In his experiments, Dehaene activates this pathway in a variety of ways, such as rotating the letters or filling the prose with errant punctuation.) Although scientists had previously assumed that the dorsal route ceased to be active once we became literate, Deheane's research demonstrates that even fluent adults are still forced to occasionally make sense of texts. We're suddenly conscious of the words on the page; the automatic act has lost its automaticity.

In the past I thought, like many here, that the poor writing consistently delivered by the shilly visitors was intended to make their words appear less polished and their accounts more common-mannered. Could it be that psy-operatives practice poor grammar and spelling to induce use of this dorsal stream and make their writings stand out from the page and the valid content across this forum? Maybe the Nico Haupt entity's gibberish was more sly than crazy.
Aha, excellent find AngellDust! That is actually a perfect example of how scientific dogma becomes institutionalized — or, 'the anatomy of academic scatology' from its well-funded inception to official adoption in 'educational' curricula as 'fact'.
Firstly, as we can easily recall from our own experience, anything requiring extra effort to read will either bore or annoy, and having to pay greater conscious attention doesn't necessarily increase comprehension either. In applied
reality
, poorly written text simply brings the
writer's
credibility, literacy, intelligence, motives etc. into question; the content is then either devalued, left unread and/or dismissed accordingly. It's "dorsal" all right, as it definitely 'raises my hackles'
Of course, I do hope the perps believe that method will work for them, though
Now, if any still wonder why we are such sticklers for critically examining the
source
, consider the author of that cited 'work', "neuroscientist" Stanislas Dehaene:
http://www.unicog.org/main/pages.php?pa ... as_Dehaene
The links to his curriculum vitae there are defunct, but who needs that when you're
reviewed & promoted
by major perp media like
Washington Post
,
Wall Street Journal
,
Scientific American
,
the Age
etc. (It reminded me of the Benjamin Franklin quote, "The learned fool writes his nonsense in better language than the unlearned, but it is still nonsense.")
Well, according to
Wiki
, he's a professor at the Collège de France, author, and director (since 1989) of INSERM
Unit 562, "Cognitive Neuroimaging"
— also known for his work on
numerical cognition
...and has plenty of perp "awards" too of course.
INSERM
,
Institut National de la Santé et de la Recherche Médicale
(National Institute of Health and Medical Research) is "a French biomedical and public health research institution"...
Created in 1964, the INSERM is a public institution with a scientific and technical vocation under the dual auspices of the

Ministry of Health

and the

Ministry of Research

. It was created as a successor to the French National Institute of Health.

INSERM consists of

339 research units

, run by

6500

permanent staff members. Eighty percent of INSERM research units are

embedded

in

research hospitals

of

French universities

.
I also find this
animated
Matrix-style page
for his book promotion weirdly ironic (another instance of popularized image association):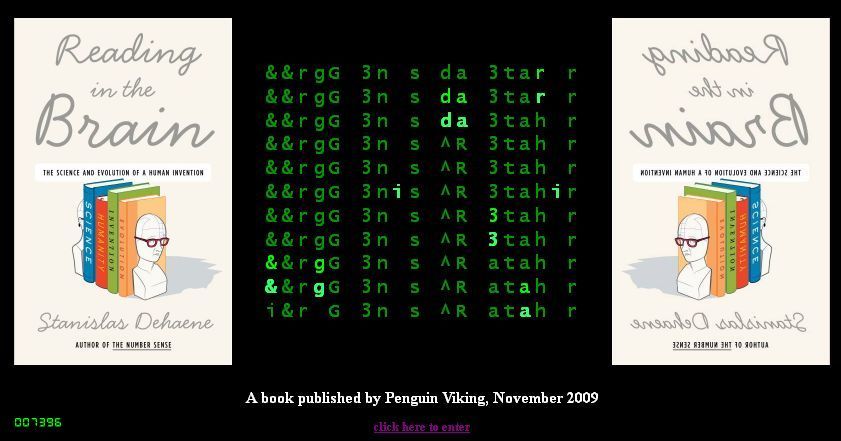 A
Brave New World
déjà vu?